Before you start
Step 1: Choose a connector (which includes a template)
There are 2 routes to get to the right Looker Studio connector:
Route 1: Through Cervinodata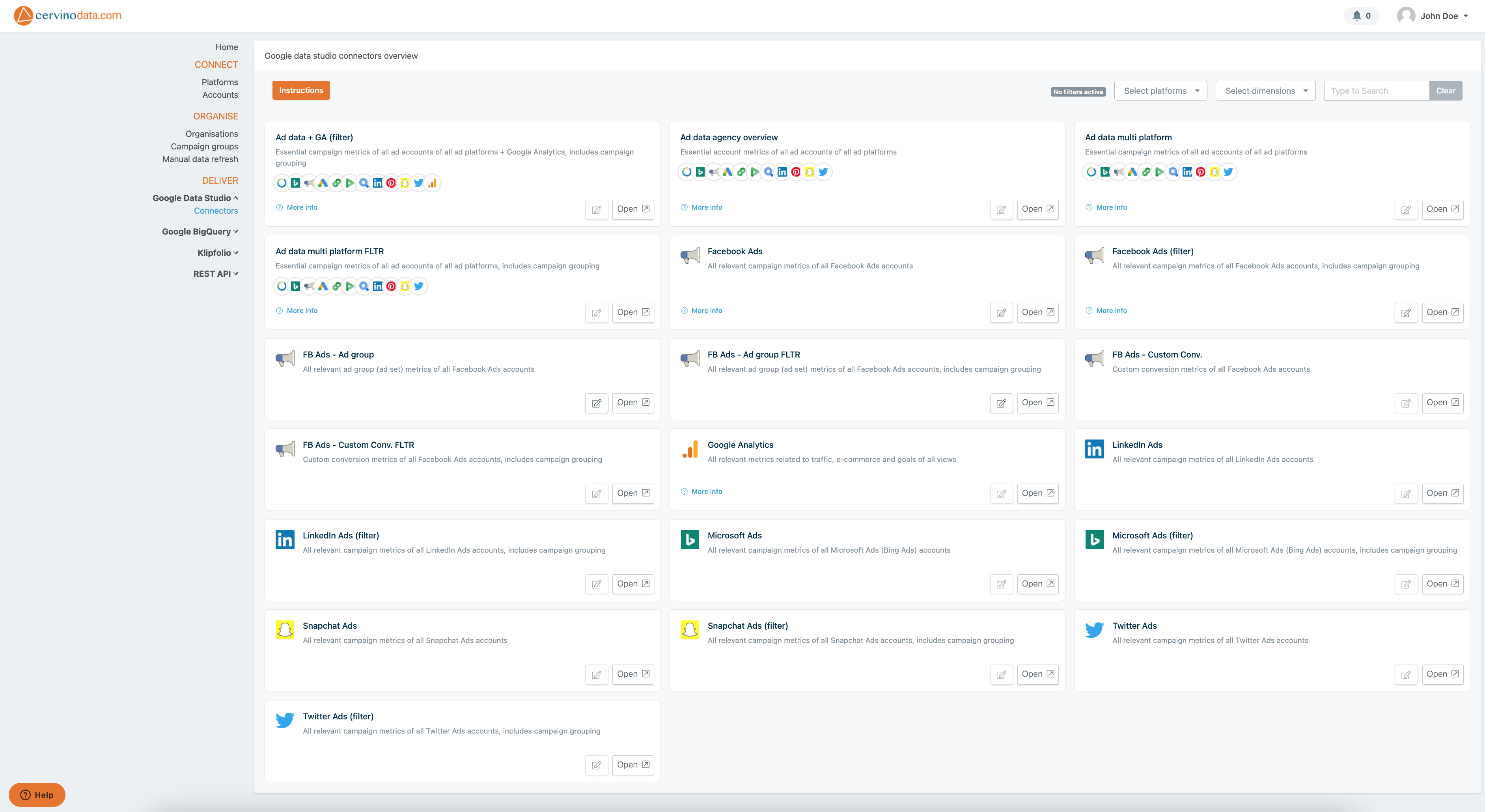 In the table, choose the connector that fits your need (you can use and combine multiple, just not at the same time).
Click the "Open" Button.
Route 2: Through the Looker Studio connector gallery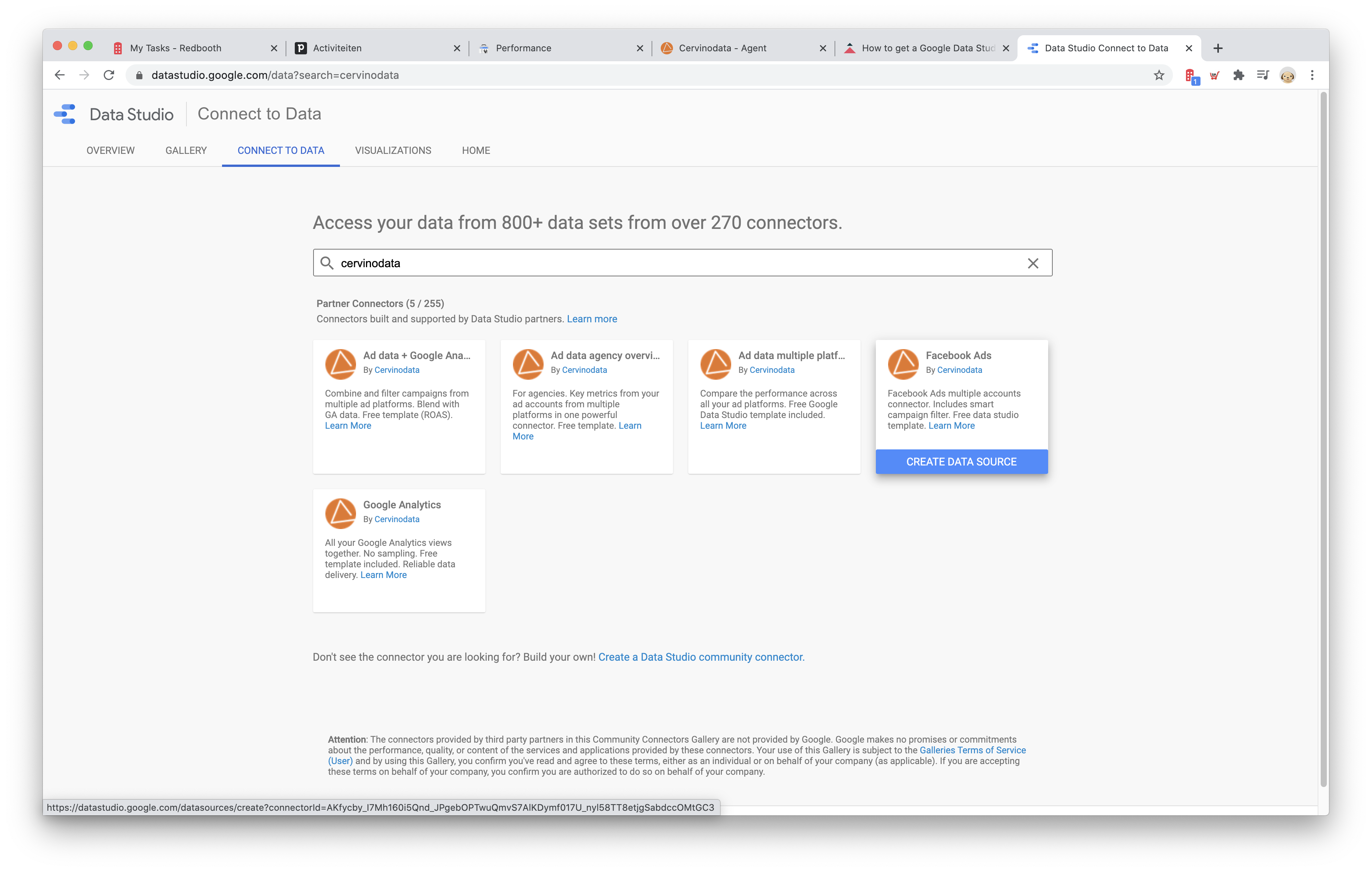 Step 2: Authorize
Connect your Google Account to Looker Studio (this will be required only once. After that your Google Account will stay logged in)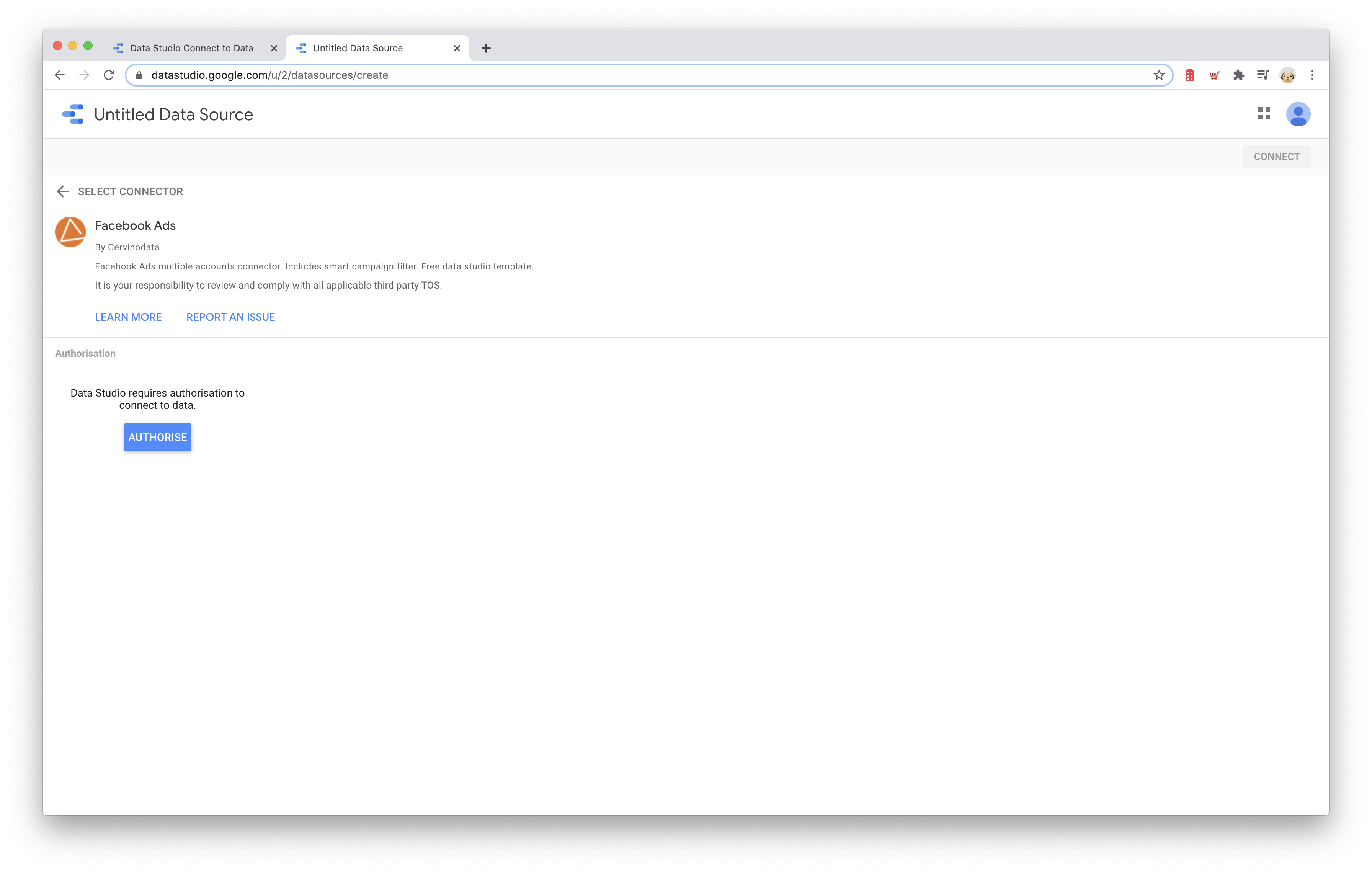 Connect Looker Studio to Cervinodata (this will be required only once. After that, your Cervinodata account is connected to Looker Studio)
When you see the dropdowns with organisations, currency and from date, your connection is successful.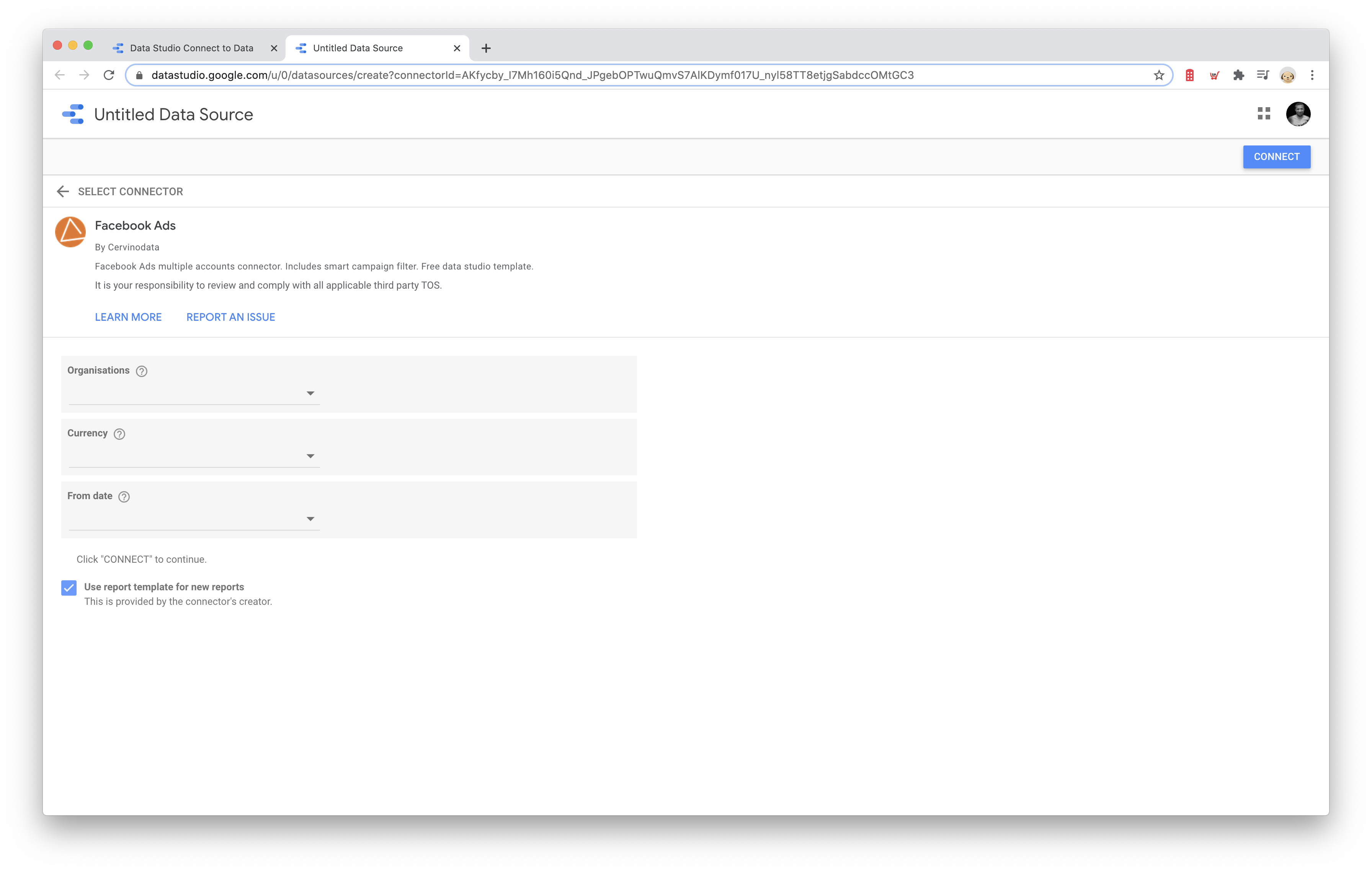 Step 3: Configure your connection
Follow these steps (you can always go back to this step and change the configuration):
Choose the organisations (you can create these in Cervinodata: organisation)
Choose the currency (all the currency related metrics like media spend, cost per click, etc., will be displayed in that currency)
Choose the start date: A shorter time range will result in a faster loading dashboard (if you are on a Free plan, limits may apply).
Press CONNECT in the top right corner.
Step 4: Create Data Studio report
After connecting, you will see the list of available metrics and dimensions.
Click "CREATE REPORT" in the top right corner to get the beautiful Cervinodata template.
Or Click "EXPLORE" if you want to build a dashboard from scratch.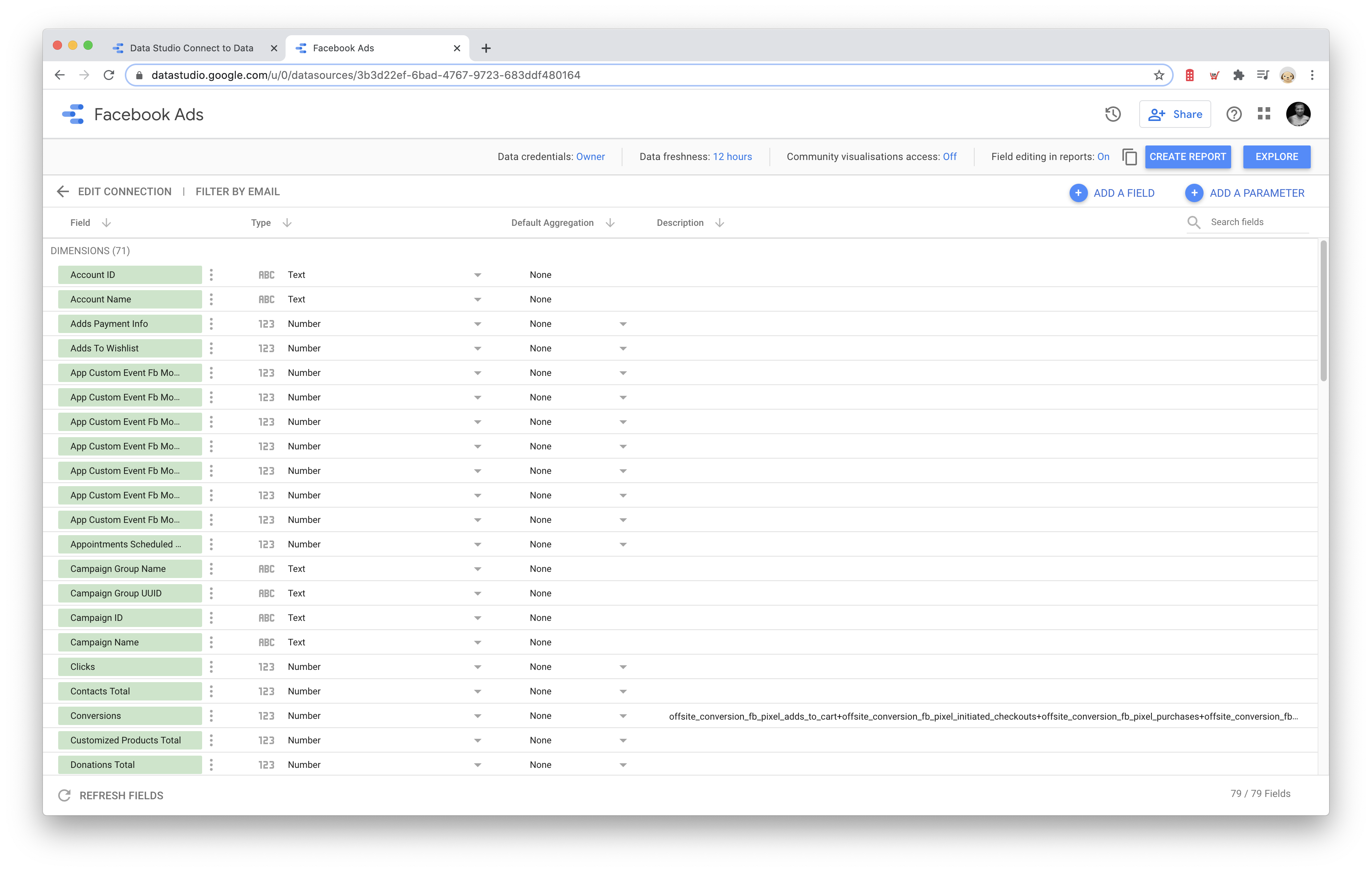 Step 5: Enjoy & customise your dashboard
To enjoy the Cervinodata template for Looker Studio, click the "View" button in the top right corner. (Please note that when you have a Free plan, the data refresh is only once per week. This means that the most recent month might not show the latest numbers. You can move to a paid plan here: https://app.cervinodata.com )
But you can always customise your dashboard to your needs, for instance by combining multiple Looker Studio connectors from Cervinodata.